We spent just four days in Tokyo, but we kept busy and saw so much during our visit. By the end of the trip I had seen all that I set out to see, and felt that we had visited a wide variety of the city.
We've traveled to Japan 3 times, but this was a fantastic final trip to Japan. Since we are moving out of Asia soon, we don't know when we will return. We made the most of our trip by seeing a variety of spots. There's the historical and cultural places to visit, but there's also manga stores and themed cafes. It was a wonderful mix of things to see, and I was happy that we didn't visit a dozen temples like we have previously.
One thing that I insisted on doing happily turned out to be my favorite part of the trip. We spent an evening at the Robot Restaurant in Shinjuku. It's a fun little tourist trap that happens to be in the red light district of Tokyo. I didn't know that's where it was located, but after Jared was offered a "massage" and I started to notice the signs on the buildings, we realized that there was a little more to the neighborhood than we originally guessed. The restaurant is expensive and the food was the grossest we had in Tokyo, but the show was amazing. It was full of bright lights, horrible storylines, and bad acting. It was like Medieval Times, but with robots and scantily clad Japanese girls. We laughed throughout the entire show because it was all so over the top and ridiculous.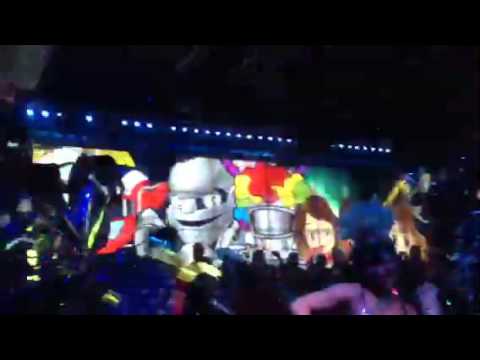 My cousin Stephanie joined us on the trip, and her must see place was the Tsukiji Fish Market. This is the largest fish market in the world, and you could smell it a mile away. We weren't willing to get up at 4 am for the tuna auction, but we did make it the first thing we did on one of our mornings. It took a little while to find our way through the shops and restaurants of the outer market to make our way to the inner market. It was significantly busier than the fish market I've visited in Seoul. The workers had motorized carts and were zipping all over the place; I felt very in the way at times, but I had to keep stopping to take pictures! We explored just a portion of the fish market and then headed off for breakfast sushi. I don't really like seafood in general, and raw seafood holds very little appeal for me. However, we found a nice little restaurant near the market and sat at the counter for our fresh breakfast. Jared and Stephanie loved their sushi and said that it was the best they've tasted. My cousin let me try some of the salmon that she ordered. I mainly just tasted wasabi, and I didn't like the texture so much. I'm sure if I could just get over the mental part of it, I might like it a bit more. I wanted to make sure I tried it though, because if there is anywhere to try sushi then its at the fish market in Tokyo- it can't get any better!
There are so many themed cafes in Tokyo (especially maid cafes), so we had a afternoon with extra time and decided to visit an owl cafe. In Korea, I have visited a sheep cafe, and there are dog and cat cafes, but I had not heard of an owl themed one yet. We spent an hour wandering manga stores (which sell some very questionable figurines) before the cafe opened. There was a 5 yen cover charge and then you had to buy a drink, so it was pretty cheap. The cafe is kept in low lighting and has plastic vines covering all the walls. There are well over a dozen owls there, all various types and sizes. Before you go in, the staff gives you a little lesson on how to hold and pet the owls, and then you are pretty much set free. Staff walk around and will help you get set up to hold one of the birds or rescue you if decide its not for you. It made me a sad to se the owls tethered to posts, especially when some would make bids for freedom. They are surprising soft, and most of them were calm. I help one that decided it wanted to eat the protective glove I was wearing, and I was terrified that it's beak was going to pierce the artery on my wrist. There was a group of three large owls that no one was allowed to hold or pet. The sign behind them said, "Dangerous! If it begins to move, please escape!" I didn't get too close to them.
Check out the next post for more on Tokyo!