Our trip to Tokyo wasn't just robots and weirdness, we also made sure to see the city's most famous historical sites.
Our first day we went to visit Senso-ji, Tokyo's oldest Buddhist temple. It was founded in 628, destroyed during World War II, and later rebuilt. It is famous in Tokyo, and the place was packed. Though we have visited a lot of Buddhist temples, it is fun to see how each is slightly different. At Senso-ji, you can make a small donation to receive a fortune; we had not seen this ritual at other temples and it was fun to try something new.
You make a 100 yen donation (approximately $1.00), and take this great tube and shake it back and forth. The tube is filled with wooden sticks, each with a different Japanese symbol engraved on it. After some shaking, a stick will come out of a small hole. You match the symbol on your stick with the symbols on a wall of tiny drawers. Find the match, open the drawer, and you have your fortune! All three of us tried it, and all three of us had a bad fortune. How unfortunate. If it is a good fortune, then you keep the paper, if it is a bad fortune then you fold the paper and tie it to a wire at the temple, and the bad luck leaves you. I wanted to keep my paper as a souvenir, but my fortune was really, really ominous and I decided not to risk it.
We also visited the Imperial Palace, where the Emperor of Japan currently resides. We were there on a Sunday, and the place was packed with runners. There is a running course that is popular with locals, and I liked seeing that they had such a lovely place to circuit. (I knew that Japanese author Haruki Murakami ran there, but I didn't realize that so many other people did too!)
The grounds open to the public are very open and well kept. However, there really wasn't too much for us to see. We saw the famous view of Seimon Ishibashi bridge, and could see various gates, but not much else. The sky was gray and the water was a little gross looking, so the pictures didn't turn out quite like I had hoped. However, it was still a serene and beautiful place.
We also visited a much newer Tokyo landmark, the Tokyo Skytree, the world's tallest radio tower. (We were slightly confused about its accolades. The tallest… what? Wikipedia states, "It became the tallest structure in Japan in 2010[2] and reached its full height of 634.0 metres (2,080 ft) in March 2011, making it the tallest tower in the world, displacing the Canton Tower,[3][4] and the second tallest structure in the world after Burj Khalifa [Dubai] (829.8 m/2,722 ft)." I'm still slightly confused about the use of the words "tower" versus "structure." I just know it was the tallest tower/structure/building I have ever been in. We ate lunch at a nearby building with views of the Skytree, and then headed up to the viewing platform. Unfortunately, it was a very cloudy and rainy day, and we were unable to see very far. However, it was fun to look out and spot different city landmarks that we had visited. There was even a small area with glass floor to walk on, and it seemed so unreal to look down that far. It was fun, but I'm sure I would have enjoyed it more on a sunny day.
We also visited Shibuya, a famous subway station and crosswalk. The station has the statue of the famous Hachi, as this was the station that he would faithfully wait for his owner. (The movie with Richard Gere made me sob.) Shibuya is also well known for "the scramble," which is believed to be the busiest crosswalk in the world. We crossed it, of course (and there was a fabulous stationery store on the other side!) We weren't there at peak time, but it was still very busy. We found a vantage point from the station so we could see it from above. Check out the video below!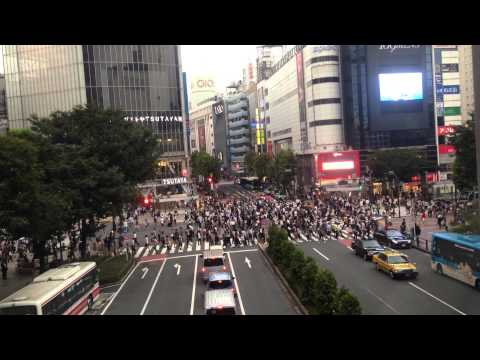 It was a very busy four days in Tokyo, but we had a great time! We were sad to think that this could be the last time we visit. We made sure to get our fill of noodles, tempura, okinamiyaki. It's so weird to think that our time here is Asia is winding down. Who will I be without a yearly visit to Japan?! We still have a few more adventures planned before we leave Asia. Keep checking in to see how we finish this amazing chapter in our lives!