We recently spent a week in Palau, a tiny island nation in the Pacific Ocean. There's really only one reason people go to Palau- to dive!
And we dove* a lot. In four days of diving, we logged a total of 11 dives. Considering we only had five dives under our weight belts before we went to Palau, this was a lot for us! We booked with Palau Dive Adventures, a locally owned and operated dive shop. They specialize in one week packages, and never have more than ten people on a boat. Each day we would leave our hotel dock at 8 am and were usually back around 4 pm. Our days included three activities and lunch. Those three activities were typically three dives, but one day we did two dives and Jellyfish Lake as the third activity.
When we dove in the Philippines, we would go out for an hour, come back and lay of the beach, and go out two or three hours later. There was a lot of down time and relaxation. This trip felt much busier! We completed our Nitrox certification, meaning that we could dive with air that is enriched with more oxygen. This way you take in less nitrogen, and nitrogen is what leads to "the bends" in scuba diving. Diving with Nitrox meant that we could stay down longer, needed less time in between dives to off gas, and diving was less tiring. (In theory, it is less tiring. Three dives a day and 8 hours on a boat was still exhausting.)
Anyway, three dives a day! By the time we would get back to the hotel, I would have a difficult time remembering what I saw on each dive. Was the lionfish on our first dive or our third? Which dive was the one where the water felt warmer? Therefore, I can't really tell you about each dive specifically. In general, we saw several manta ray, dozens of sharks, a sea turtle, two eels, a unicorn fish, a banded sea krait (which I spotted on our first dive!), a humphead parrotfish, blue sea stars and so many things that I couldn't identify. Jared and I talked about how we need to increase our knowledge of sea creatures since we plan to continue to dive. We have the basic diving skills down now, so it's time to start searching for rare creatures! The manta rays were the stars of the trip. I hadn't gotten my hopes up too much about seeing one, so I was delighted to see a twelve foot wide ray on our second day; I continued to be impressed when we saw them for the next two days, including one that was at least twenty feet across! We would spot one at a cleaning station (where they wait for little fish to eat away parasites), and we would sit on the sand to watch them swoop around. They are so unlike other creatures in the way they look and move, and I loved watching the graceful way the manta rays moved through the water. Somehow they manage to fly underwater, reminding me more of birds than any sea creature. We also saw dozens reef and bull sharks; they were present at almost every dive. Though the idea was scary at first, they had very little interest in us, and we always kept a safe distance. I really wanted to see a shark eat a fish, but no luck.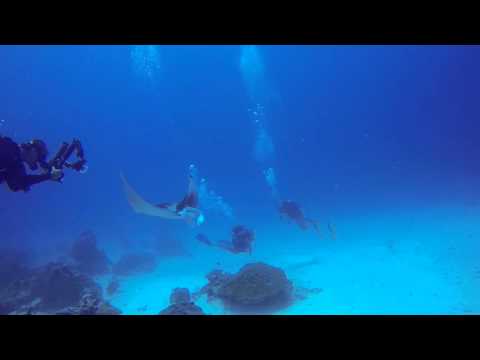 Most of our dives were at reefs, and we would drift from one side to another. Once I got my buoyancy under control, I enjoyed this because it took very little effort. The current would gently move me over gardens of coral, and all I needed to do was breathe and observe. It did take me awhile to reach that zenlike dive though; it had been over a year since I dove, and I spent the first day flailing and had no control over my buoyancy. On the second day, we took some weights out of my vest, and I didn't have to fight to stay level nearly as much- highly more enjoyable for diving. We also dove on a few wrecks. We saw a fishing boat, a Japanese cargo ship (with depth chargers and gas masks still visible), and a 470′ Japanese Navy tanker. The wrecks didn't have as many fish, but they were all covered in coral and amazing to look at. It's fun to swim through masts and see where torpedoes hit the hull of a ship. We realized that the only wrecks we were diving were Japanese, and we were curious if there were any US ships from WWII to dive. Our guide told us that divers are not allowed to dive at US wrecks because they are graveyards; soldiers died there, and it is a memorial. So, why can we dive at Japanese wrecks; men died there too, right? "Because they lost the war." I haven't been able to confirm if this is an actual rule or a tradition. In Bali, you can dive the USAT Liberty wreck, but in Palau, it's only Japanese ships.
The diving wasn't all manta rays and gentle drifting. On our first day, I scraped ripped my ankle to shreds on some coral. I was trying to understand how my body works underwater and wasn't paying attention to how close I was to some sharp coral. It was stinging quite badly, but when I looked at my ankle, it just looked black and dirty. I thought that was strange, so I touched the wound and realized that there wasn't dirt on my ankle, but that the color red is the first to disappear underwater; I was bleeding quite a lot. There's not much you can do about it in the moment though. Jared's fins rubbed huge blisters onto his toes, and it took the entire week for them to slowly start healing. You can't really bandage wounds like those on a dive trip, so we just used a lot of iodine and hoped for the best. The low point of the trip for me was probably on the second day when the water was really choppy. The boat rides to the dive sites were always bumpy, but that day it started getting to me and during our dive brief I began to feel nauseous. I've never been seasick before, so I was surprised that it hit me so hard. I asked to be the first one off the boat, because I knew I'd be okay once I was in the water. I was quickly helped into my gear, threw up, and seconds later flipped into the water. Not the best way to start a dive. I felt perfectly fine during the dive, but when we came up for our safety stop (a three minute pause, 3 meters from the top, to off gas) I could feel the swells and started feeling sick again. I threw up as soon as I was in the boat; it was a horrible way to bookend an otherwise great dive. Luckily, that was the only day I actually got sick.
The only place we couldn't dive was Jellyfish Lake. The bubbles from divers can harm the jellyfish, so only snorkeling is allowed. I was so excited to visit this spot, and it was amazing! There are only two places like this in the world; the other is in Mongolia. The lake used to be part of the ocean, but volcanic activity isolated it. The jellyfish that live there have no natural predator, so they can't sting you. The water was a little murkier than I had anticipated, but there were still hundreds of jellyfish to see. Some were as tiny as my pinky fingernail, some were almost as large as my head. I poked a few, and I was surprised at how solid they are! Nothing at all like jelly. My favorite thing to do was dive down and rocket through them to the surface. A few would bump against me, but they mostly moved to the side as I came through.
Though this trip was not as relaxing as our dive trip to the Philippines, it was amazing in its own way. We became so much more experienced as divers and I feel much more comfortable with my knowledge and skills after this trip. Just like in the Philippines, I feel honored to be able to visit this underwater world. There is something so pristine and pure about the ocean. It's a humbling reminder of what a small part we are in this huge planet. And, I swam with manta rays- kinda awesome.
We saw a few things above water in Palau too- next post!
*Did you know that the past tense of dive could be either dived or dove? Dove is more prominently used in America, and dived is more common in England. Though, people in the northern US are more likely to use dove, and southerners tend toward dived. I had to look this up, because I kept switching between the two uses while in Palau and got thoroughly confused on which was proper.
**I did not receive any compensation to mention Palau Dive Adventures, nor did they ask for a review.