On our final day in Gyeongju and at our final UNESCO site that I had planned for us, I had a brilliant idea. "Let's take the long way home and see another UNESCO site!"
Naturally, right? Because we had been sleeping on the floor for two nights, and we hadn't been exceptionally impressed with the FIVE UNESCO sites we had seen in the past two days; why wouldn't we extend the trip by another hour or so of driving? I had been studying my trusty Pilgrimmage to Korea's World Heritage Sites book and had noticed that there were two sites, Haeinsa Temple and Andong Hahoe Village, that were away from everything else. A nice clump of heritage near Seoul. A nice clump in Gyeongju. Haeinsa Temple was slightly off of our route home. It was doubtful that we'd make the effort to drive such a long distance from Seoul just to see another temple. If I wanted to visit it while in Korea, this was the best opportunity. Jared studied that map, and, to my delight, agreed that this would be the best time to visit. Just like that I brought our total for UNESCO sites up to 6 in one weekend. I amaze myself sometimes.
We rolled off the floor the next morning, eager to get this next site over with so we could go home. It was a gray, rainy morning-not the most optimistic start to a road trip. We drove into Gayasan National Park where the temple is located, and it seemed that we crossed a line and suddenly everything was covered in snow. (This is also around the time that I started to think that we should visit all the National Parks in Korea! Because, you know I love a list to check off.) We drove along a picturesque little river that was covered in snow and halfheartedly talked about stopping on the way back for pictures. We followed signs and parked in a forlorn little parking lot. It seemed we were the only visitors there at 9 am. An ajumma who was running a little snack stand insisted on us taking her umbrella and some sort of candied, gummy food with us. We were sent off in the right direction and told that we had about a mile to walk. Oh. Hmm. The guidebook had said nothing about that. We wanted to go home to our dog. It was snowing, and we weren't really prepared for the snow. Did we really need to do this?
We did it. The path to the temple was paved, which would have been a good thing if it wasn't solid ice. In between sliding around, I was mesmerized by the perfect winter scene. The path followed alongside a stream, and trees from both sides met to make an arch over the pathway. It was silent; it was snowing; it was so much more beautiful than anything else we had seen that weekend.
The temple grounds were covered in snow, but it was no longer silent. Morning prayers had just started and the sounds of monks chanting in unison filled the air. They continued for at least half an hour as we wandered around. There were only a few other tourists there, and it felt as though the morning was just for us. We found our way to the highest point of the temple grounds. The buildings here house the Tripitaka Koreana, 80,000 wooden blocks containing the all the teachings of Buddha. It's a library; of course, I was in awe. The blocks are the oldest Buddhist canon in the world and were written in classical Chinese. The writing started in 1236 and took 16 years to complete. The blocks themselves are impossible for the average person to see. You can only peek through the slats of the wall and stare of the shelves that seem to go on forever. I find it fascinating that such a precious cultural artifact is stored in an open air building. The structure lets air continually circulate, and this has helped the blocks stay preserved for over 800 years.
We were making our way to exit the temple, when we noticed three monks approaching the large pavilion that contains the temple's drum and bell. After just a few moments, one of the monks approached the drum and slowly began to tap. His beats grew louder and faster, his movements became larger and more forceful. I knew that this was the best moment of our trip. We watched as all three monks as the took turns at the drum, and finalized the ceremony at the bell. I had complained at Bulguksa Temple, that all the temples in Korea are starting to be the same. Not Haeinsa. Standing in the snow and listening to someone pour their soul into their culture and religion was the perfect reminder- it's not all the same. It's not something that I should ever get tired of. I am beyond lucky to sleep on floors, walk a mile in the ice, and wander a temple.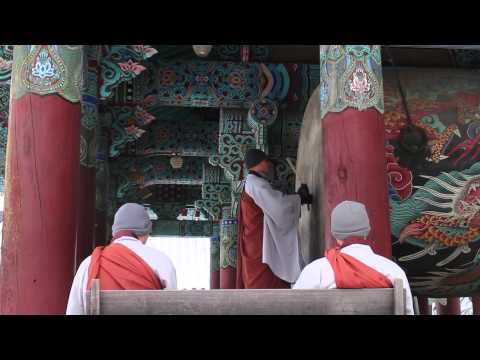 Seven out of twelve stamps now complete!