We recently took a day trip to nearby Suwon. Our much loved Lonely Planet Korea guide book lists Suwon's Hwaseong Fortress, A UNESCO World Heritage site, as one of the top sites in Korea. If our guidebook says to go, we usually obey. 
Hwaseong Fortress is located about 20 miles south of Seoul and is halfway between us and Pyeongtaek, where some of our friends live. Therefore, it made the perfect meeting spot for our group. Suwon has over 1 million inhabitants, many of those attend one of the fourteen universities in the town. The universities may explain the presence of a Papa John's Pizza, which I was delighted to see.
The fortress was built in 1794 when King Jeongjo decided he wanted to move the capital from Seoul to Suwon. However, he died before he could move in and the capital remained in Seoul. At least, that is what I understood while we were there. Though owe love our trusty guidebook, it did not include this little story: the fortress was also constructed to hold the remains of the King's father, Prince Sado, "who had been murdered by being locked alive inside a rice chest by his own father, King Yeongjo, after failing to obey the command to commit suicide" (Wikipedia). What?! Of course, after reading this I had to research further. There are two versions of the story: 1) Prince Sado was crazy and murderous, so his father had to kill him, or 2) he was framed. I feel that those are two very different extremes. I usually don't get too worked up about history, but stories like these always catch my attention.
The fortress is a huge wall, broken at intervals by guard towers and gates. The construction workers were some of the first to be paid for their labor, and they received their wages in rice. I hope they didn't use their rice chests to kill people like ol' King Yeongjo. At the time of its construction, the wall surrounded the entire city of Suwon. However, after a few hundred years, the city has spread a considerable distance from the confinement of the fortress. The wall stretches for about 3.5 miles, and you can walk along the entire structure. Much of the wall was damaged during the Korean War, but since the 1970s there has been a huge effort to restore the fortress.
I think it would be worth going to the fortress and going to the highest point, Seojangdae, just for the views of the city. We were lucky to have a fairly clear day without the usual amount of haze. We walked the portion of the wall that sat along a hilltop, from NamChi to Hwaseomun; this route offered a beautiful panorama of the city nestled against the mountains. Since this section of the fortress was at the top of this hill, we had to climb up it. There were steps, but it was ridiculously steep, and as I climbed the hill, I realized that it is definitely summer time in Korea. It was cool and spring-like when I arrived, but it is heating up quickly. One of the most amusing aspects of our walk was seeing Koreans in their hiking gear. I've seen them all over the place since I've been here. On the subway, in downtown Seoul, walking in our neighborhood. Apparently the slightest trek deserves a full outfit- boots, water repellant pants, breathable shirts, backpacks, and trekking poles. I have seen so many of them, mostly the older generation, dressed in top brand gear and not have a speck of dirt on them. I find it really amusing and try to take secret pictures with my iPhone. We saw even more of these over-prepared individuals on our walk around the fortress. Yes, we did have to climb a lot of stairs to get to the top, but it was still a walk, not a hike! (For example, my friend wore a white sundress.) We didn't walk the entire wall, but enjoyed the part we explored.
The most exciting part was being able to ring an enormous bell with my friend. The Hyowon Bell symbolizes Suwon's filial piety and can be heard all the way down the hillside. It was a simple task; however, as you can see below, we were ridiculously excited about it. Best dollar I've spent in awhile!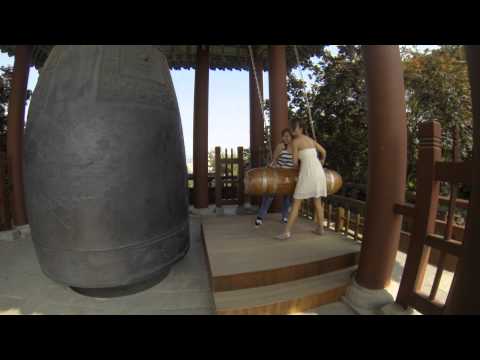 We also had a huge lunch while in Suwon. It's called a "Royal Dinner," and it is somewhat common throughout Korea. It is a sit down meal that is served family style, as are most Korean meals. I lost count of how many dishes were brought to our table. Each person has their own small plate and takes a little bit of food from each dish on the table. There was a bulgogi and mushroom soup, kimchi, seafood salad, ham and spinach salad, fried vegetables, rice, tofu, fish, and a dozen other things. I didn't know what most of the items were. That was probably for the best. I tried everything, even if it was just a nibble. I almost lost it on some type of roll. It was green and white, and I suspected there might be fish inside. Whatever was in there managed to be both tough, crunchy, and gelatinous all at the same time. It wasn't pleasant. I found plenty to eat amongst all the dishes at our table, but even with five of us stuffing ourselves, we couldn't finish everything that was served to us.
Although there are other tourist places in Suwon, we only visited the fortress on this trip. The city is so close and easy to get to, that I am sure we will be back. After spending all day in the sun, I was exhausted by the time we arrived back at our apartment. Our last shipment of belongings arrived on Friday, and I've been slowly unpacking for the past few days. So, even though there are unpacked boxes all over, I am finally starting to feel that this is our home. And I'm happy to be home!