A friend and I recently visited the aptly named Korean Folk Village, located in Suwon. It's part park, part museum, and all touristy. A perfect summer outing! Korean Folk Village is a large park that teaches guests about life in historical Korea. There are several buildings that have been relocated from areas around the peninsula. You can see how a farmer's house differs from that of an aristocrat's home. There is a temple, a market, and plenty of gardens. We went on a Monday morning, and many of the interactive experiences were not available. However, on different days you can make pottery, ride a traditional boat, and dye fabrics.
The park can be quite educational. It displayed the different types of roofs used in Korea, and explained what different tools were used for. Most of the signs favored Hangul, but there was enough English to be able to understand the main idea. The entire place reminded me very much of Dollywood. There were craftsmen, employees in traditional clothing, and an idealization of the past. We arrived when the park first opened and had the place to ourselves. It was still cool and incredibly peaceful. We started to see more people when we ventured to the performance area. Of the three performances we saw- Farmers' Dance, Equestrian Feats, and Traditional Wedding Ceremony, the Farmer's Dance was by far my favorite. I've seen these dances before, but had no idea what they were for. This dance was a wish for a good harvest. There are guys who have the ribbon hats; they swivel their neck and the ribbon swirls around like a halo. These performers also do some flips and tricks as the music's beat picks up. It's best to see it; so here's a fun video: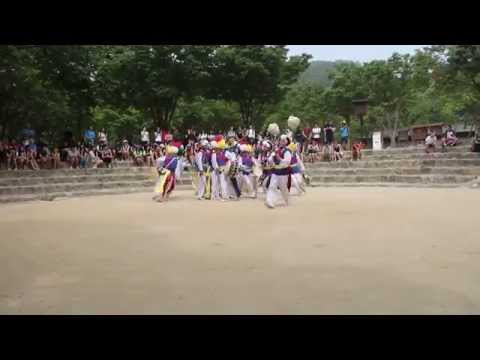 The Equestrian Feats performance included performers doing various tricks on horseback and showing off their whip skills. There was nothing to set it apart from other such shows, and I found some of the performers to be unnecessarily heavy handed with the whip. I felt that the Korean culture was celebrated in the Farmers' Dance, where as the horse show was simple pandering. I was intrigued to see the wedding simply for the clothing. However, the crowd was kept back and it was difficult to see details. As the ceremony was officiated in drawn-out, monotonous Hangul, it wasn't that interesting to listen to either. The folk village also includes a children's amusement park. There are several rides- carousel, viking boat, bumper cars, etc. The main issue with the Folk Village is that it is a little expensive. ₩15,000 for adults and ₩10,000 for children. Any extra activities- pottery, boat ride, children's rides- are an additional fee.
Overall, it was a perfect day trip. We were blessed with good weather and no crowds. It was interesting to see what life used to be like in Korea, and I really loved seeing the dance performance. Although I didn't explore every bit of the park, I feel like it was a great one-time only place to visit.