A few times a year, Changdeokgung Palace, my favorite of Seoul's five palaces, is open for moonlight tours. I made sure to buy tickets as soon as they were available, and was delighted to see these beautiful buildings lit up at night!
Jessica, one of the founders of How We See Korea, joined me, and we were both enthralled with the tour. There were tours in English, Korean, and Chinese. The entire event was well organized and enjoyable. When we arrived, the guards brought out flags and paraded around as we gathered our tickets. We were given headsets, so as to hear our guide, lanterns, and hot hands because the nights are beginning to be chilly.
We were guided through the grounds and told stories of the palace's history and inhabitants. The tour did not allow tripods, and there would not have been any time to set one up at the pace we were going! Our group was the first on the grounds, so there was always another tour coming up behind us.
Once we were in the Huwon, the secret garden, we were allowed five minutes to wander and take pictures. There was a performer playing traditional music and by now the sky was completely dark, except for a brilliantly bright full moon. Despite the "no tripod" rule, I whipped out my tiny Joby gorilla pod and used it to get a few long exposure shots.
I would have been completely content if the tour had ended there, but we were ushered to a seating area and given treats! We had tea and rice cakes while we watched a variety of traditional Korean performances. We saw a fan dance, a duet, and listened to traditional music. Korean traditional music really isn't my top choice; I feel it is a little too twangy. However, it sounded beautiful that night. Give me a full moon and treats, and I'll listen forever. I recorded a bit of the duet for you. They are singing about love.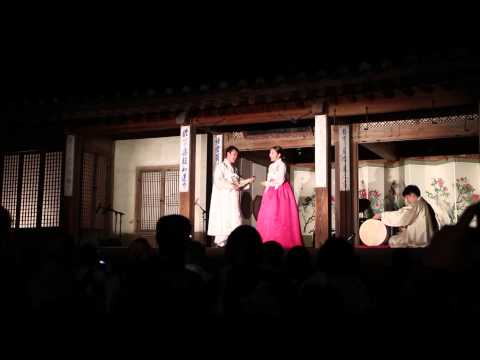 After the performance, we walked to the front gate. As we exited, we were given cloth tote bags with a picture of the palace on it. Inside were postcards, a notebook, and a pencil- all featuring images of Changdeokgung at night. It was an unexpected treat, and a wonderful end to the evening! I have been in a bit of a slump lately. Korea had been beginning to feel too normal, and I wasn't seeking out events and places as I used to. This night was a perfect reminder that a little effort is all it takes to find the magic.